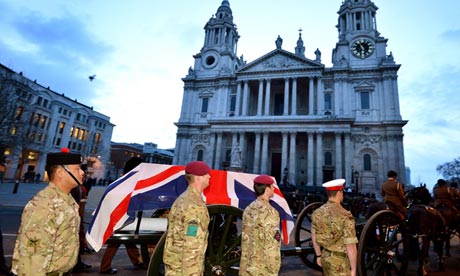 Idle will be on Ludgate Hill at St Paul's for the passing of the gun carriage. He will wear a hat, only so that he can remove it. Afterwards, a guest of the Stationers' Livery company at their grand hall beside St Paul's for the funeral and lunch.
I have pondered the life and death of Margaret Thatcher this week. I recognise that not everyone can laud her; even the best politicians operate under the eternal Law of Unintended Consequences. But so great was the disaster she inherited, so perilous the economic danger, she had no choice but to administer the medicine. It was bitter to swallow, much more so for some than others. Be in no doubt that it had to be swallowed, however. It took supreme courage, nerve, tenacity and forbearance to see it through. And having survived to lead three Parliaments, she was able to influence the world, as one of the two greatest statesmen of her era. It is no exaggeration to say that hundreds of millions of people are now free who were not and might never have been, had it not been for her unshakable belief in freedom and the human spirit.
Margaret Thatcher was a titanic, heroic, necessary figure. Thank heavens she was there when needed.
I thank whatever gods may be
For her unconquerable soul
RIP